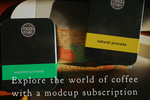 modcup October Subscription Box
Modcup offers a monthly subscription service to cater to the tastes of coffee geeks, burgeoning cuppers, and carafe-chuggers of the world. 
 We are thrilled to let you know that your October subscription box has left the roastery and are even more excited about the coffee you'll be getting your hands on shortly. Each of the modcup crew have their favorites but we can all agree on one thing: Ethiopian coffees are a fan favorite for a good reason.
 These beans are a bit late to the party; if the ongoing Covid-19 pandemic didn't slow them down, the blockage at the Suez canal sure did. Either way, they're here and we're over the moon to be able to share them with you. Here's a little information on each roast going out with your preferred October subscription box.
The Economy Box: 
 Joining your chosen kilo of blended coffee is a wonderful anaerobically processed Brazilian coffee from Jorge Fernando. The field blend Brazil features bright notes of toasted nuts and red apple, with a fun and surprising brown sugar quality. These wonderfully Autumnal flavors are the result of an extended fermentation process that transforms the usually nuttier flavor profile of Brazilian coffees into a much fruitier cup. This turned out to be warmth and comfort in a cup, perfect for the season. 
 The Explorer Box:
 Tagging along with the aforementioned Brazilian, Explorer subscription holders will also receive the first naturally processed Ethiopian of 2021. This Yirgacheffe provides an incredibly sweet and nuanced profile, with tons of berry notes and a light, flowery finish. This clean cup is a great pick for anyone looking for a delicately balanced drink, warm or cold.  
 The Gold Label selection comes to you from another powerhouse East African producer: Kenya. This coffee comes from Modcup's first time working with the Long Miles Project, a sourcing partner originating in Burundi by founders Ben and Kristy Carlson. Both the beans and the couple hold celebrity status in the coffee world as the scope of their coffee work has been extending to a wider array of coffee producing countries. With a juicy, citrus-y acidity at the start of a sip and a stewed fruit/raisin sweetness to finish, this coffee speaks for itself in the cup. 
 The Connoisseur Box
 Catalyst, another Ethiopian export trade group, has joined forces with modcup for the first time to bring us a wonderfully delicate heirloom from the western Ethiopian Keffa district. Expect lots of jasmine to lead with lots of apricot and peach following swiftly behind it for a clean, satisfying finish.
The other Gold Label offering is a naturally processed Costa Rican from the Las Lajas washing station. The Perla Negra natural process gives way to unbelievably funky, fruit-forward characteristics. 
Our rare varietal offering this month comes from the world famous Hacienda Esmerelda farm in Panama. Known for their experimental plant growing procedures, these beans come from Ethiopian heirlooms situated on the steep slopes around the farm. Traditionally washed, this coffee offers a unique contrast to it's varietal cousin within this exact subscription box, the Dimbria Lot 20 of Keffa. Subscribers will have the unique opportunity to taste coffee from very similar plants, one grown in the motherland and the other halfway across the globe in Central America. A dynamic range of different floral flavors and aromas liven up in this cup; notes of jasmine, honey, and orange blossom water take center stage. 
 —
 With the modcup monthly subscription, you'll have exclusive early access to new coffees that find their way to the roastery, giving you the chance to experience another step in the journey through coffee discovery.