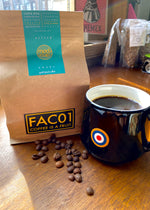 As promised, here are some of the new selections hitting the modcup roastery. You're in luck if you fancy a naturally processed coffee, but even if that's not totally your jam there is still quite a lot of complexity to appreciate here. These two fruit bombs from Costa Rica are some of the tunes we'll be playing on repeat this season, with more getting some spotlight in the coming weeks. 
Costa Rica Tarrazu Natural Microlot:
Jammy and syrupy all at once, this Costa Rican natural of the famed Tarrazu growing region hits the palate with rich chocolate and cherry notes. Slightly heavier in body due to the natural processing, this coffee shines no matter how you brew. It shines brightest with the French Press and pour over as they highlight the full-bodied and rich fruit characteristics respectively. In 2009, Jorge and Ivannia Gutierrez opened their own micro mill, La Montana Tarrazu, and currently run it with the help of their daughter Daniela to produce some of the most innovative coffee seen to date. For coffee nerds of all levels, this is an intensely decadent cup you have to try while it's still here for the season. 
Costa Rica Natural Caturra:
Leaning more toward a brighter, fruitier acidity without losing any of the complexity, this natural from Costa Rica excels in full immersion brew methods. This exceptionally processed coffee comes to you from the Las Lajas micro mill where it goes through a weeks-long journey from harvest to packaging. The Perla Negra process is characterized by the select harvesting of only the ripest cherries that are then moved to patios for intermittent periods of drying. The fruits are dried for between 22 to 27 days, allowing the natural sugars to soak into the beans and help provide that insanely juicy profile. 
That's all for these two for now. Words can't quite quantify how dynamic the flavors present are, so be sure to stop by a shop for a pour-over and grab a bag for yourself! I'm a blogger of my word, and next week we'll share a bit about some Ethiopian naturals we're all particularly excited for. Check back soon and stay caffeinated!