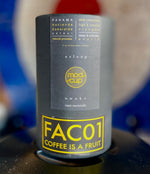 We've gone on and on about the legendary estate that grows and produces mythical-level coffees, Hacienda Esmeralda, and the natural catuai up for grabs this season is no exception. The bean benefits greatly from the cold and wet air of the 1,400 m.a.s.l. (meters above sea level) Jaramillo and Cañas Verdes farms help the natural aromatics of the coffee to truly come through. Growing such incredibly dynamic coffees is not without its challenges, however, as the regional geography ranges from rolling hills to steep 40 degree inclines that this Catuai grows on. 
Keeping in line with the wealth of fantastic natural coffees we're running this season, this Panamanian grown coffee provides potentially the most Autumn-appropriate flavor profile yet. Bursting with warming flavors and aromas of dark chocolate, ripe figs, and toasted nuts, this coffee evolves into a delightfully sweet yet warming clove and nutmeg finish. As the coffee cools down, deep notes of rich cherry dominate the palate and fades slowly into a floral, sweet tea-like cup. Don't brew this one if you're in a hurry; like the finest brandies and whiskies, this coffee demands to be sipped and savoured slowly to truly appreciate all the depth and nuance of a bean from the famed Hacienda La Esmeralda. 
Brew however you like; a V60/pour over system will allow all of the complex flavor notes to come through and sing in unison, while a French Press will make sure the decadent body and mouthfeel of this natural is respected. However you plan to brew, make sure you take your time drinking it. A coffee this special only comes around once in a blue moon, and you're going to want to take it slow and experience it fully.