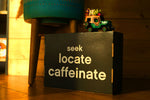 Give the gift of great coffee.
At modcup, we think the best coffee is the one that you love so much that you share it with others. We've got a wealth of different gift options for the (potential) coffee lover in your life this holiday season, so read on below to browse what we've got ready to go in the coming weeks. 
Any of our traditional blends will make for an excellent gift to the medium to medium-dark roast drinker in your life, while still introducing them to our more modern approach to roasting. All composed of exclusively Arabica beans, our blends are carefully balanced and roasted to deliver familiar and comforting traditional flavors while still preserving the integrity of the raw material. Our 7/6 drip, Classico cold brew, and Casuals espresso blends are all excellent canvasses for milk and/or sugar. For the caffeine-sensitive, our decaf blend is still a knockout punch of deep, rich flavor. The deeper, richer flavors of these three blends are an excellent starting point for anyone looking to further explore what high-quality specialty coffee can taste like when treated with respect and care. 
Modcup's modern blends are our everyday rockstars. The Humble Jefferson drip, Dredger cold brew, and Secret Affair blends are our perennial powerhouses and showcase FAC01: Coffee is a fruit. Brimming with pleasant acidity and balanced by sweetness, each blend offers a drinking experience that echoes that of their traditional counterparts, but with more emphasis on the inherently fruity nature of the coffee bean. These blends are for those that are looking to experience that complexity in a cup of coffee. And while each of these blends pairs well with a splash of milk, they are at their best when enjoyed black. Gift a bag of a modern blend to the person in your life who wants a little bit more out of their every day cup of coffee.
Our seasonal classic single origins are a step up from our traditional blends. Still showcasing the best qualities of a specific region, the flavor notes expressed are still familiar and comforting. Growing countries like Colombia, Brazil, and Mexico are represented here, with each offering favoring the bass notes of chocolate, orange, caramel, and toasted nuts. Expect plenty of classic coffee tasting notes but with depth and complexity unique to beans native to one single country. These coffees would make excellent gifts for those looking for those nostalgic flavors with more focused profiles. 
The selections in our rotating exotic category exemplify the idea that coffee, in essence, is nothing more than the seed of a fruit, and therefore should inherently be fruity in flavor. Ethiopia and Costa Rica are the growing countries that made the cut this season due to either rich growing conditions or experimental processing methods. When lightly roasted, these single-origin coffees burst with myriad fruit flavors and aromas across the spectrum. The seasonal exotic coffees shimmer with floral notes, bright acidity, and sweetness and are at their absolute best when sipped black so as to not lose any of the nuance in taste. If there's a wine or spirits lover in your life who also enjoys a complex cup of coffee in the morning, the seasonal exotic coffees make for a wonderful compliment to their daily beverage roster. 
The modcup gold label category is reserved for our champion coffees. Undefeated in complexity, depth of flavor and aroma, and clarity in tasting notes, these coffees are what we are known for. Always roasted lightly to ensure the integrity of the bean, these flavors that explode out of these coffees are the truest expression of what the particular growing region brings to the table. Expect wild flavor of peach compote, apple pie, apricot marmalade, and chocolate-covered blueberries. Any avid coffee fan would delight in opening a box of some of modcup's finest, and they'd think of you every morning for getting them such exquisite beans.  Every musical talent has their hits, and these gold label coffees are modcup's. 
There are no other coffees like those in our rare varietal category. We source green coffee beans from the titans of the industry, with superstar farms like Colombia's Cafe Grandja La Esperanza and Panama's Hacienda La Esmeralda providing us with nature's magic. These coffees are nothing short of divine, with ethereal florality, luscious body, and decadent sweetness. These are the Macallan 18s and Suntory Hibikis of the coffee world, and someone VERY special to you will be the perfect recipient of such an utterly magnificent batch of freshly roasted beans. Gifting a coffee of this quality and rarity is just shy of a marriage proposal, so choose carefully.
The modcup monthly subscription box is perhaps the most thoughtful long-term gift you could give to a friend or loved one as it is both the best bang for your buck AND the gift that keeps on giving. Choose the Economy box for someone who wants a classic cup every morning for a month with a sidecar of single origin to mix it up. Or the Explorer box for three dynamic and exciting single origin coffees from around the world, giving you a taste of what three different farms in three different countries has to offer. The Connoisseur box is a wonderful way to introduce someone to modcup's signature seasonal picks as well as some of the rarest coffee you can possibly get. Live with a coffee nerd? Gifting a subscription is a good way to get a month's worth of coffee at a steal, and you both get to reap the benefits. Renew a subscription for someone close to you, as you'll be a large part of their long and exciting journey through coffee discovery. 
Curated Box Sets:
New to the shop, our 4 curated box sets are perhaps the most focused curated sets of different coffees. Each comes with their own unique theme and box art, along with fun info cards on each bag inside. They're a touch similar to our subscription model with a few key differences, though there's a lot to talk about in each so click here to get a better look at them all. 
Modcup Merch:
Know a modcup fan who is already on top of all their coffee purchases? We've got plenty of merch to help them rep their favorite Jersey City coffee roastery. From stylish apparel to custom drinkware and stickers/pins, we have plenty of ways for you and yours to show you're part of the cool kids club this holiday season.
We're not done yet. If you're reading this the same day of publication, you can grab anything off our online store for 20% off by using code 20offcybermonday at checkout.
-
You've got plenty of quality coffee and merchandise to choose from, and we hope this eases some of the stress of last minute holiday shopping. More important to us, though, is that you enjoy the coffees you pick out and share some with those close to you.